Ook dit is de Rotte
The Recreatieschap Rottemeren (Staatsbosbeheer), the municipality of Rotterdam, Plezierrivier de Rotte and Ondernemersvereniging de Rottemeren want to make this beautiful nature reserve along the de Rotte river even more attractive to visitors. We created a new website as part of our marketing strategy for promoting the area. A place where local entrepreneurs can showcase their businesses and related activities.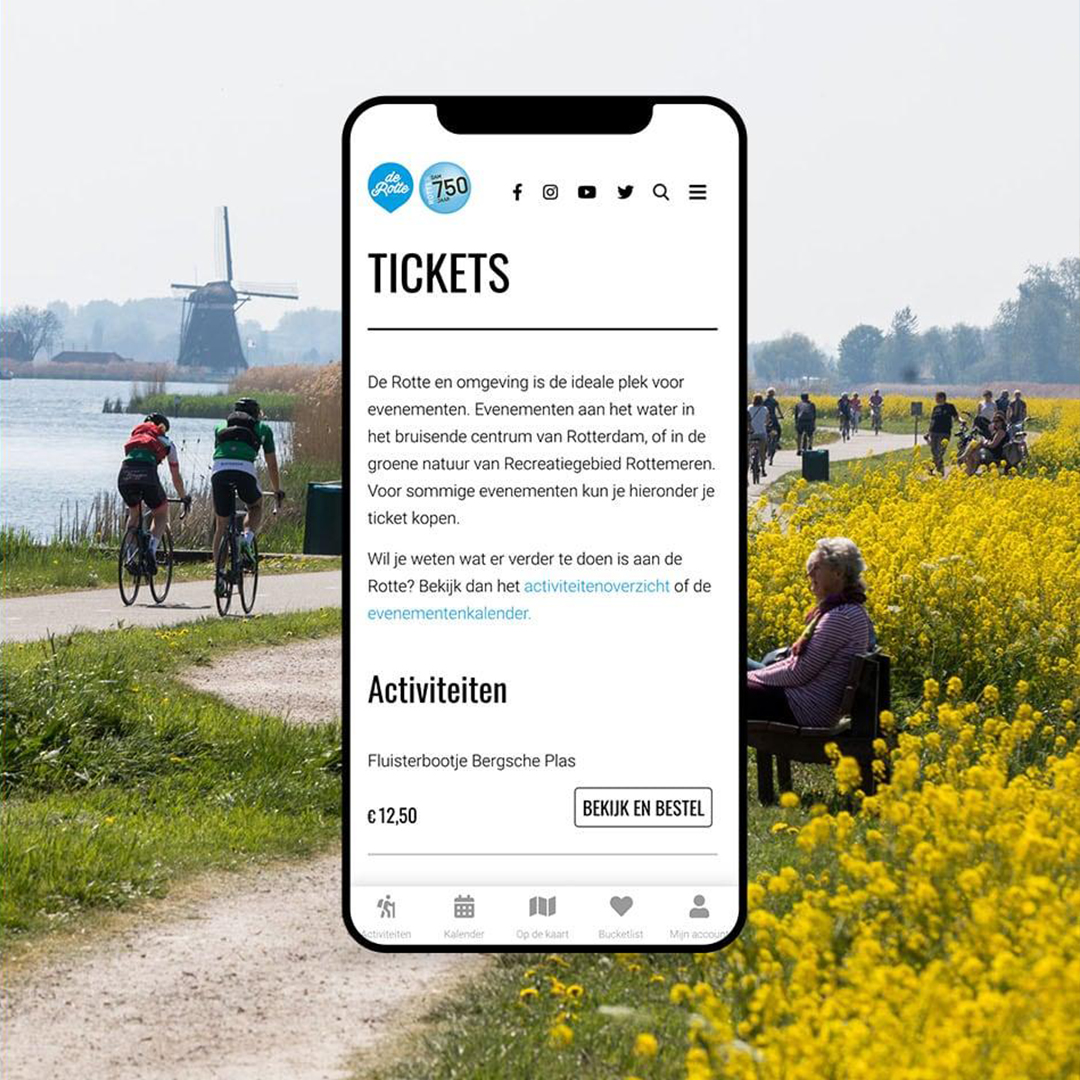 approach
The first step for developing the new website ookditisderotte.nl was to create a functional design. After approval, this design was further developed by the technical department. A user panel performed an intermediate test on the website to optimize its user friendliness. While we were developing ookditisderotte.nl, we gave thoughtful consideration to various made-to-measure components such as an API link to Google Maps. This link is for generating real-time locations on the Google map. The CMS of the site is user-friendly so that our client can easily manage everything in one place.
result
The website ookditisderotte.nl is the one-stop website where people can discover or rediscover de Rotte as a place to relax and have fun. From activities to events, everything is clearly displayed in an interactive map on the website, making it quick and easy for people to find and plan great days out. A project which keeps us busy working on technology and user-friendliness. Meanwhile, the website has been expanded to include more made-to-measure components such as a self-made bucket list and the possibility of ordering tickets online. Both entrepreneurs and visitors have even more pleasure from De Rotte.
About Ook dit is de Rotte
OokditisdeRotte.nl is a collaboration between Recreatieschap Rottemeren, the municipality of Rotterdam, Ondernemersvereniging Rottemeren and the Stichting Plezierrivier de Rotte. Various stakeholders from the area joined forces to develop a marketing strategy for bringing the Rotte and the surrounding area to the attention of both visitors and local residents. This resulted in Ook dit is de Rotte and Ook wij zijn de Rotte. On the website ookditisderotte.nl you can find out about everything de Rotte and the surrounding area have to offer. How you can have a great time on the river and in the surrounding area and how the river can inspire you. From its source in Moerkapelle to the dam in the bustling city center of Rotterdam. Discover de Rotte as you never knew it before.